July 26, 2006
---
We hope you've been enjoying our official Mock Draft, Fantasy Football Files staff style. It's been a wild ride, with some real surprises to go along with the predictable early going. You've seen the picks and witty remarks from round one. Then you saw the drama continue to unfold in round two. We even gave you the full rundown of round three. What's next? You guessed it.
Round four. The Draft Order: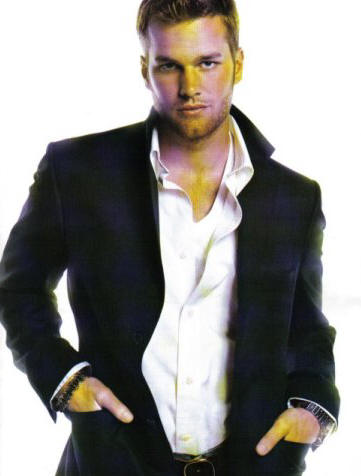 31. Jeff_Probst_wannabe
32. JamalLewisMustDie
33. Montana2Rice
34. The Deciders
35. Team Ecosystem
36. GoldGlove24
37. Employee001
38. the iForce
39. KissMyTightEnd
40. The Jackie Joyner Kersey Experience

The Unedited Fourth Round:
~~~~~~~~~~~~~~~~~
[Jeff_Probst_wannabe]: Tom Brady. My respect for him as a player and my unrelenting man-love for him as a human being makes this a no-brainer.
[JamalLewisMustDie]: At least you're honest. JamalLewisMustDie will select the man the Colts wanted so bad they let the Edge walk. And I'm not talking about The Edge, as in the guitarist from U2 (left), whose given name, I believe, is David Evans. I am talking about star running back Edgerrin James. Who, come to think of it, I really wish I could take in this spot. But as he's no longer available, so I'll take Reggie Wayne.
[Montana2Rice]: Roy Williams. The receiver on Detroit, not the Cowboys safety. Just clearing that up.
[JamalLewisMustDie]: Thanks, jackass. Nice team name.
[Montana2Rice]: How many Super Bowls have you won, Jamal? Oh, snap!
[The Deciders]: You guys both suck. Really hard. You put Lindsay Lohan to shame. You know who won't suck at all this year, though? Corey Dillon.

[Team Ecosystem]: Santana Moss will be growing in this particular ecosystem come September.

[GoldGlove24]: Chris "Gas" Chambers.
[Employee001]: Ha, does that mean you are gonna execute him if he drops a pass in the end zone? Geez. Time for me to take the man with perhaps the oddest first name in sports, and that's saying a lot. Plaxico Burress. He may not be smart, but man can that guy run.
[the iForce]: Despite only carrying the ball six times a game coming into this year, I have high hopes that Tatum will ring the Bell of scoring (boo) many times this year.
[Employee001]: You are probably the least funny person on this planet.
[the iForce]: You are probably fired as of the end of the day.
[Employee001]: Well played.
[KissMyTightEnd]: Reuben Droughns… On and on and on…
[The Jackie Joyner Kersey Experience]: Enough. I conclude this round with Javon Walker.
~~~~~~~~~~~~~~~~~
The Rundown, Sans Commentary…
31. Jeff_Probst_wannabe — Tom Brady, QB, New England
32. JamalLewisMustDie — Reggie Wayne, WR, Indianapolis
33. Montana2Rice — Roy Williams, WR, Detroit
34. The Deciders — Corey Dillon, RB, New England
35. Team Ecosystem — Santana Moss, WR, Washington
36. GoldGlove24 — Chris Chambers, WR, Miami
37. Employee001 — Plaxico Burress, WR, N.Y. Giants
38. the iForce — Tatum Bell, RB, Denver
39. KissMyTightEnd — Reuben Droughns, RB, Cleveland
40. The Jackie Joyner Kersey Experience — Javon Walker, WR, Denver
THROUGH FOUR ROUNDS, BY TEAM:
The Jackie Joyner Kersey Experience:
Larry Johnson, RB, Kansas City
Domanick Davis, RB, Houston
Reggie Bush, RB, New Orleans
Javon Walker, WR, Denver
KissMyTightEnd:
LaDainian Tomlinson, RB, San Diego
Marvin Harrison, WR, Indianapolis
Randy Moss, WR, Oakland
Reuben Droughns, RB, Cleveland
the iForce:
Shaun Alexander, RB, Seattle
Antonio Gates, TE, San Diego
Brian Westbrook, RB, Philadelphia
Tatum Bell, RB, Denver
Employee001:
Tiki Barber, RB, N.Y. Giants
Larry Fitzgerald, WR, Arizona
Willie Parker, RB, Pittsburgh
Plaxico Burress, WR, N.Y. Giants
GoldGlove24:
Edgerrin James, RB, Arizona
Willis McGahee, RB, Buffalo
Julius Jones, RB, Dallas
Chris Chambers, WR, Miami
Team Ecosystem:
Rudi Johnson, RB, Cincinnati
Chad Johnson, WR, Cincinnati
Kevin Jones, RB, Detroit
Santana Moss, WR, Washington
The Deciders:
Peyton Manning, QB, Indianapolis
Carnell Williams, RB, Tampa Bay
Torry Holt, WR, St. Louis
Corey Dillon, RB, New England
Montana2Rice:
Clinton Portis, RB, Washington
Ronnie Brown, RB, Miami
Anquan Boldin, WR, Arizona
Roy Williams, WR, Detroit

JamalLewisMustDie:
Terrell Owens, WR, Dallas
Lamont Davis, RB, Oakland
Warrick Dunn, WR, Atlanta
Reggie Wayne, WR, Indianapolis
Jeff_Probst_wannabe:
Steve Smith, WR, Carolina
Steven Jackson, RB, St. Louis
Hines Ward, WR, Pittsburgh
Tom Brady, QB, New England