February 28, 2006
---
Now that Eric Moulds has rejected the Bills' offer to restructure his contract, the receiver second in club history to Andre Reed in yards and catches could be on his way out.
"Based on what they're proposing, I guess it's not encouraging," Moulds' agent Harry Henderson told The Associated Press following a meeting with team officials. "We're way off. … Our attitude has been opti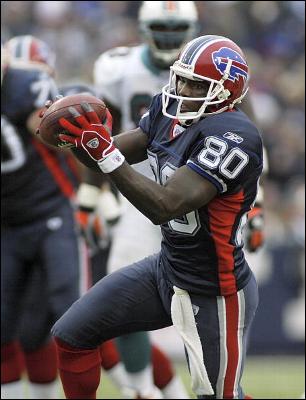 mistic, but realistically it may not happen."
Moulds is a 10-year veteran and the team's senior player, but he's schedules to count $10.85 million agains the salary cap in 2006. Unless a new deal can be reached, the Bills would have little choice but to cut Moulds, which would save the team about $5.5 million in cap room … not to mention a handful of headaches after the wideout complained about his role in last season's offense.
The release could come as early as this week, prior to the NFL's free-agency period, scheduled to open March 3. Unlike Curtis Martin, Moulds appears unwilling to place the club's interests above his own.
If he is let go, look for another team to sign this veteran. He could still be worthy of a third WR slot on your fantasy team - but, more importantly, this would leave the door open for Lee Evans and Josh Reed to have big years.