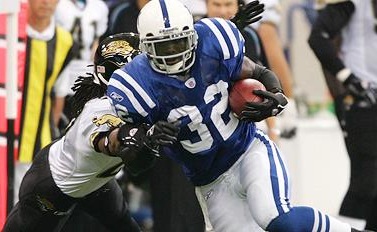 According to the Indianapolis Star, the Colts have signed 16 free agents since the end of the season.
Not among them? Edgerrin James and Reggie Wayne.
The Colts face big decisions as free agency looms for these two stars, and may begin next year without at least one of the two. James, a star running back who has gained 9,226 yards and scored 75 times in seven seasons in Indianapolis, reportedly thinks he is on the way out. Wayne has established himself as a solid #2 receiver alongside Marvin Harrison and would get big offers if the Colts let him become a free agent.
Indianapolis can only use the "franchise" tag — in which the player is considered signed, for one year, at the average salary of the five highest-paid players in the NFL at that position — on one of the two. Since G.M. Bill Polian isn't afraid to let veterans go and start over with younger players, the Colts are not likely to offer a contract to whichever star they do not franchise.
Compounding the issue are other key areas the team must address following its 14-2 season, which ended in a disappointing home loss to Pittsburgh in the divisional playoffs.
If linebacker David Thornton is let go, they must acquire another playmaker at that position. Defensive end Robert Mathis is a restricted free agent (meaning the Colts can match any offer to keep him) but the demand for his services is high and could cost Indy a bundle. Another of their own free agent defensive linemen, Raheem Brock, has developed nicely and the Colts do not want to see him depart. Prolific, idiot kicker Mike Vanderjagt is also rumored to be out the door.
The Files thinks this means the end of James' days in Indianapolis. He has clashed with the organization over his contract status before, and Wayne seems like the safer "franchise" option for the Colts at this point. If they can keep Peyton Manning's receiving corps intact, they may be content to sign a lower-priced free agent to replace James. Failing that, they might opt for a committee approach, comprised of current backups Dominic Rhodes and James Mungro.
The Edge will be a hot free agent commodity if he leaves Indy. Rumors have him landing in Arizona, which just shelled out big bucks to keep Kurt Warner and badly needs a running back to improve its pathetic ground game. Warner may have been the moribund franchise's biggest signing since Rod Tidwell, and if they want to build a contender in the Valley of the Sun, they may be willing to show James the money.