It was the most debated question of the 2005 fantasy football draft: Is Peyton Manning worthy of the number-one overall draft pick? While running backs typically own that position, it was difficult to ignore this quaterback's record-breaking 50 TD passes from the year before?
After Manning put up less than stellar numbers this season, however, and chocked once again in the playoffs, a different issue needs to be raised: is Peyton worthy of any draft pick?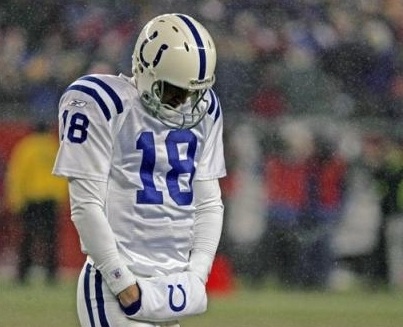 Okay, that may be exaggerating a bit - but the performance of Indy's star QB at the Pro Bowl isn't exactly encouraging. He finished the contest 13/26 for 139 yards, with one touchdown and THREE interceptions. Granted, it was raining. And, sure, this was only an exhibition.
But even after being leveled by Joey Porter and the Pittsburgh defense in the playoffs this season, the biggest hit Manning took may have been to his confidence. He'll still put up significant stats in 2006 - especially if Edgerrin James signs elsewhere - but he may not even be the first member of his family chosen in next year's draft.
The question is no longer whether or not Peyton deserves the top overall pick, but whether or not he should even be selected in the first round. The Files would advise against it.