May 12, 2006
---
Most leagues combine the defense and special teams into one selection. Does this mean you should focus on the club with the most potential sacks or punt returns for touchdowns? It's a fine line. Let's walk it right now.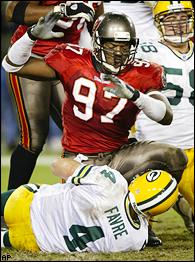 Washington Redskins: Gregg Williams is paid more than many head coaches thanks to how he transformed last year's unit into one that gave up less than 300 yards per game. They blitz and get to the quarterback as much as any team in the league. Recently-signed Antwaan Randle El should bring a punt or two back for a score, as well.
Carolina Panthers: Always one of the top defenses … partly due to its offense. Running the ball over and over and over (and over) means the other team will rarely have the ball. Points scored, the only category that fantasy players care about, will always be at a minimum. Moreover, draft pick DeAngelo Williams could have an impact in the return game.
Tampa Bay Buccaneers: They've never returned a kickoff for a touchdown. Not once. But they're consistently ranked atop the leaders on defense, sitting at number-one in 2005. With Derrick Brooks and Simeon Rice (pictured) still making a living in South Florida, there's no reason to think this will change.
New York Giants: Every sack counts for a point. This unit is comprised of Michael Strahan, Osi Umenyiora. You do the math. The team also signed R.W. McQuarters and Sam Madison.
Chicago Bears: Good luck scoring on them when the temperatue dips below 30 degrees. In other words, every home game is ripe for a shut out.
Pittsburgh Steelers: The Super Bowl Champions are historicall strong on this side of the ball. They'll dominate time of possession and Joey Porter leads a unit that should create many turnovers.
New Orleans Saints: Reggie Bush may return 14 punts for touchdowns. Worth noting.
Keep in mind … New England has its defensive leader, Rodney Harrison back … Indianapolis showed off an imposing D last year, led by sack artist, Dwight Freeney … Cincinnati led the league in turnovers last year.