April 26, 2006
---
Dolphins running back Ricky Williams was smoked by the NFL yesterday, so to speak. The eccentric star lost the appeal of his fourth NFL substance abuse policy violation and will be suspended for at least the entire 2006 season, a league spokesman said Tuesday.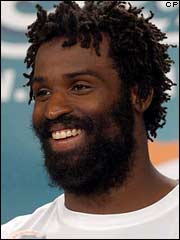 Williams, who tested positive for an unknown substance in December, can't apply for reinstatement until after the entire 2006 season is completed. Despite the devastating news, a not-surprisingly mellow Williams issued a statement through the team saying he is planning another comeback once the suspension has run its course.
"I'm disappointed with the decision, but I respect it," Williams said. "I'm proud of my association with the National Football League and look forward to returning to the Dolphins in 2007."
Williams, who also missed the entire 2004 season after a positive drug test and a decision to smoke herb instead of pile up rushing records, will be 30 by the time he can next take the field. Whether or not he actually does so will hinge upon a couple of factors:
Williams' ability to stay in playing shape (questionable).
The federal court judgment that Miami holds against Williams that requires he repay his $8.6M signing bonus for breach of contract (significant).
In addition, the former Heisman winner has three children to care for, one of whom requires a monthly child support payment of $4,200. His longtime girlfriend, Kristen Barnes, is also pregnant with Williams' fourth child. Sounds like a good arrangement Ricky's got going.
I believe if someone offered me several million dollars in exchange for not smoking weed, I would be able to hold up my end of the deal. But that's just me. Considering most NFL players retire in their thirties, is it too much to ask of a man to put down the blunt for a couple of seasons, carry the ball a few hundred times, and amass an eight-figure nest egg? Which could actually help him realize his dream of a living in a perpetual drugged-out haze thereafter?
Forget it. At least Ron Mexico never jeopardized his earning potential with his off-the-field shenanigans. Good riddance, Ricky.