As Nick Saban curses him off, Ricky Williams should be expecting bouquets of flowers from grateful fantasy owners. Or perhaps some other type of paraphernalia as a gift.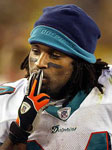 After spending the 2005 campaign rotating with fellow Miami running back, Ronnie Brown, Williams caused strife and confusion in fantasy leagues across the country. Which tailback should players start? Both? Neither? Would there be bonus points for late-night food binges?
According to reports in The Miami Herald, however, Williams has failed his FOURTH drug test. Evidently, off-season yoga and holistic medicine classes just haven't been relaxing enough for this former Heisman Trophy winner. If these rumors are accurate, the back is in line for a one-year suspension from the league.
If that's the case, Brown could become an early second round selection. The only remaining teams that would have alternating running back scenarios would be the Denver Broncos and Kansas City Chiefs.