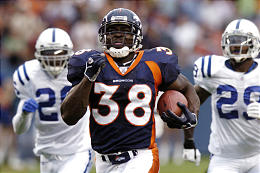 Salary cap concerns led to the release of Broncos defensive lineman Trevor Pryce on Wednesday. Oh, and leading rusher Mike Anderson (pictured) and tight end Jeb Putzier were also dumped. The Denver Post reports that with these moves, the Broncos are now under the $94.53 million cap.
Anderson gained 1,487 yards and scored 15 touchdowns as a rookie in 2000, and made an inspired comeback from injury last season to rush for 1,014 yards. He has been the leader of the running game in Denver ever since Terrell Davis retired in 2001. Putzier, a.k.a. "The Putz" (I just made that up) was the Broncos' third-leading receiver in each of the past two seasons, making a combined 73 catches.
Pryce has been a standout for nearly a decade and was one of the few remaining Broncos with links to the 1997 and 1998 Super Bowl teams. Another defensive lineman, former #1 pick Courtney Brown, will be back for at least one more season after restructuring his contract. G.M. Ted Sundquist said the cuts boil down to the players' unwillingness to accept pay cuts and restructure their contracts.
"They were willing to listen to us with regards to making some kind of cap room, but not a reduction. The problem with that is extension or no extension, that did not work with us trying to put the team together going into '06. It didn't fit," Sundquist said.
With these money-shaving efforts, the arrival of Terrell Owens in the Mile High City looks increasingly unlikely. The three released players could sign new deals for less money, but don't look for that to happen. The Broncos were $13.866 million over the cap this morning, but snuck under the league-mandated number through the following savings:
Pryce ($8.534 million)
Anderson ($2.55 million)
Putzier ($3.9 million)
Problem solved! That was easy. But what now? Surprisingly, Pryce may be the hardest to replace of the three. Veteran Stephen Alexander can handle the tight end duties just fine, and Denver's rushing attack hasn't missed a beat in 10 years. Young buck Tatum Bell has 1,317 yards and 11 touchdowns in two seasons as Anderson's backup, and the speedster should thrive as a starter in Mike Shanahan's offense. He warrants an early-round fantasy pick for sure. Much like Ricky Williams' problems in Miami, Anderson's release will give fantasy geeks everywhere one less thing to worry about.
Plus, if Bell can't go, there is always Maurice Clarett. Yes, we know Denver released him. But don't you believe in seventh chances?