March 26, 2006
---
Recent free agent signings and impressive workouts at scouting combines have contributed to a shake-up atop the 2006 NFL draft board. The Files may not have the hair or pedigree of Mel Kiper, Jr., but it can still try its hand at a bit of prospect punditry.
1. Houston Texans - Reggie Bush, RB USC
There may be some pressure to trade down and stockpile draft picks, but Bush is too special of a talent. Find a way to get him 20 touches a game, Coach Kubiak, and expect him to break at least one a game for a huge gain.
2. New Orleans Saints - Mario Williams, DE, North Carolina St.
After signing Drew Brees, New Orleans is set at QB. It will receive a few offers for this spot, but why accept them when the best defensive player on the board is available?
3. Tennessee Titans – Matt Leinart, QB, USC
When Brees agreed to terms with New Orleans, Tennessee Offensive Coordinator Norm Chow must have sent him a box of chocolates. Now the Titans can reunite Chow with Leinart and the duo can try and recreate its success at USC.
4. New York Jets – D'Brickashaw Ferguson, OL, Virginia
There will be pressure to draft a QB, especially with Jay Cutler and Vince Young both still on the board. But the Jets recently traded for Patrick Ramsey as insurance for Chad Pennington - and Ferguson will solidify left tackle for the next decade.
5. Green Bay Packers – A.J. Hawk, LB, Ohio State
Teamed with Nick Barnett, Hawk would upgrade a Green Bay defense that teams ran and passed all over a season ago. With the status of Brett Favre still in doubt and Javon Walker unhappy, the club should at least improve its D.
6. San Francisco 49ers – Michael Huff, CB, Texas
2005 number-one selection, Alex Smith, certainly needs help on offense. But San Francisco isn't anywhere close to being a force on that side of the ball. The Niners might as well go after the top corner in the draft and try to prevent their opponent from putting points on the board.
7. Oakland Raiders – Vince Young, QB Texas
Aaron Brooks isn't the long-term solution is Oakland. Is he the best player to tutor a talent such as Young? Raider nation will soon find out.
8. Buffalo Bills – Haloti Ngata, DT, Oregon
The name is a mouthful, but so is his clogging up of the middle. Without Pat Williams last year, Buffalo has trouble stopping the run. Ngata will be used to try and rectify this problem.
9. Detroit Lions - Tye Hill, CB, Clemson
Based on their history, there's a good chance the Lions nab a wide receiver with this pick. Assuming that craze in finished after three years, though. Hill's speed will be too hard to resist, especially for a team that plays home games in a dome.
10. Arizona Cardinals - Jay Cutler, QB, Vanderbilt
We know, we know, Kurt Warner just resigned in the dessert. But he won't be around forever and Arizona addresses its running back problem in free agency. The team can't resist a future of Cutler to wide outs Larry Fitzgerald and Anquan Boldin.
11. St. Louis Rams – Vernon Davis, TE, Maryland
What, did you think St. Louis would go for defense? Yeah, right. Even with Mike Martz finally out of the picture, this club is geared toward scoring points. The top-rated tight end on the board will help immensely with this mission.
12. Cleveland Browns – Ernie Sims, LB, Florida St.
This is Romeo Crennel's team now and he's all defense. Cleveland will hope Sims can learn quickly under free agent acquisition, Willie McGinest.
13. Baltimore Ravens – Brodrick Bunkley, DT, Florida St.
They sure need a quarterback and if Cutler is still available, he's theirs. But the Ravens signed a pair of running backs in free agency, enabling them to focus on the D once again.
14. Philadelphia Eagles – Santonio Holmes, WR, Ohio St.
Perhaps you've heard that Terrell Owens no longer plays here. The team is confident about Reggie Brown and it's wide out corp - but not enough to resist the speed and talent of Holmes.
15. Atlanta Falcons – Winston Justice, OL, USC
A running team needs a solid offensive line. A few character issues followed Justice around USC in 2004, but Jim Mora instill discipline in his club.
16. Miami Dolphins – Chad Jackson, WR, Florida
With Daunte Culpepper on board, Miami will open up the passing game. To prevent teams from triple teaming Chris Chambers, the Dolphis will need this speedster to get open down the field.
17. Minnesota Vikings - Jimmy Williams, CB, Virginia Tech
As the Vikings continue to overall their roster and focus on defense, Williams will fit right in. A running back could be the pick here, but Minnesota seems to have a glut of those already.
18. Dallas Cowboys – Jonathan Joseph, CB, South Carolina
They signed a new WR, not sure if you heard that. Dallas also possesses a pair of quality running backs, so the defense will be addressed with this stellar athlete
19. San Diego Chargers – Sinorice Moss, WR, Miami
San Diego lost Reche Caldwell to free agency and newly installed QB Philip Rivers will need a few targets. Moss should stretch the opposing defense and leave more room in the middle for Antonio Gates.
20. Kansas City Chiefs – Ashton Youboty, CB, Ohio St.
KC always needs help on defense. Patrick Surtain was a great signing last season and Youboty may be raw, but he can learn from the veteran.
21. New England Patriots – DeAngelo Williams, RB, Memphis
The Patriots benefit from the fact that not many teams before them need a running back. Does New England? Corey Dillon was hurt often a year ago and Williams' talent will be too hard to resist.
22. Denver Bronocs (acquired from Redskins) – Demeco Ryans, LB, Alabama
You can never be sure that Denver won't add to its collection of running backs. But Ryans is a superb player that flocks to the ball. The Broncos can always just pick up a back in the 7th round and make him a star anyway.
23. Tampa Bay Buccaneers – Marcus McNeil, OL, Auburn
With a young quarterback and a young running back, Tampa Bay needs a powerful line. Jon Gruden should be able to mold this raw prospect into a solid contributor.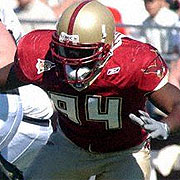 24. Cincinnati Bengals – deMathias Kiwanuka, DE, Boston College
The Bengals appear to be covered on offense. Adding this pass rusher to the D will simply give Carson Palmer and company more of a chance to get the ball and do what they do best.
25. New York Giants – Chad Greenway, LB, Iowa
He didn't have the best showing at the combine, but New York will be in the market for linebacker help. Injuries depleted that unit last season, so look for that position here - even if the Giants ink free agent LaVar Arrington.
26. Chicago Bears – Leonard Pope, TE, Georgia
Rex Grossman will need a safety valve underneath. The Bears are certainly set on defense, but could benefit from a bruising receiver over the middle.
27. Carolina Panthers – Kamerion Wimbley, DE, Florida St.
They re-signed their running back and added Keyshawn Johnson. Now, the focus returns to a defense that constantly ranks atop the league leaders. Wimbley can only help.
28. Jacksonville Jaguars – Tamba Hali, DE, Penn St.
If any of the top receivers fall - or even Pope at tight end - look for Jacksonville to snatch them up. Hall, however, would provide depth at defensive end and teams can always use players that can rush the passer.
29. Denver Broncos – Dominique Byrd, TE, USC
Jeb Putzier is gone for salary cap reasons and Jake Plummer loves to check down to his tight end. Byrd should help Denver's play action passing attack continue to prosper.
30. Indianapolis Colts – Laurence Maroney, RB, Minnesota
LenDale White is also a possibility, but the Colts will look for a more versatile back to fill the void left by Edgerrin James. Maroney has an overlooked, impressive season at Minneosta last season.
31. Seattle Seahawks – Taitusi Lutui, OL, USC
After losing Steve Hutchinson to the Vikings, Seattle has to make sure Shaun Alexander still has holes to run through. Lutui will assist with that cause.
32. Pittsburgh Steelers – Nick Mangold, C, Ohio St.
Without many obvious holes, why not grab the top-rated center in the draft? Jeff Hartings can't snap the ball forever.