June 2, 2006
---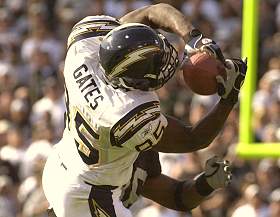 Perhaps we just just refer to this category as "Antonio Gates and everyone else." Nevertheless, you can't completely ignore the position of tight end during a fantasy football draft. A touchdown pass in a late-season game could mean the difference between making your league's playoffs or not. So let's take a look at who's most likely to get you there …
Antonio Gates: Could be worth a second or third ro und selection. His numbers are that much better than any other TE. Be hesitant, however, with first-year starter Philip Rive rs now behind center in San Diego.
Tony Gonzalez - Only found the endzone twice in 2005, but no other team's offense is as geared around the position as KC's. Can you even name a wide receiver on the Chiefs?
Alge Crumpler: Michael Vick may not even be aware that he's allowed to throw to anyone else.
Jason Whitten: They signed some selfish, loud-mouthed wide out in the off-season - but double teams on Terrell Owens will simply leave the middle of the field open for th is athletic big man.
Todd Heap: Kyle Boeller has his chance(s). The quarterback stinks. Nevertheless, Heap will snare t he majority of throws that don't instantly bounce on the ground or end up in the arms of the opposition.
Jeremy Shockey: He was used more for blocking l ast season than ever before, but as Eli Manning matures, it only means more opportunities for this anger-filled tight end.
Chris Cooley: He finished 205 with seven touchdowns, including three in a huge late-season victory. As Santana Moss burns downfield, Cooley will often be open across the middle.
Randy McMichael: There is the chance that Joey Harrington will be throwing him passes to begin the season. We're just sayin.
Keep in mind … Vernon Davis; he's a rookie, but Alex Smith isn't very good. He'll be checking down to his tight end quite often.