May 1, 2006
---
The NFL Draft has come, gone and made everyone who tried to predict it look silly - including The Files. But that hasn't stopped us from analyzing a few of the selections and letting our readers know which might be worth a pick in your 2006 fantasy football draft. A quick piece of advice: don't make the same mistake as the Texans. Reggie Bush is gonna be really, really good.
Reggie Bush, RB, Saints: Might as well start at the top - or what should have been the top. Bush will be oustanding during his rookie campaign. If your league rewards plays of over 40 yards, he may be worth as high as a third round choice. Also consider the New Orleans defense/special teams with every punt return a possible touchdown.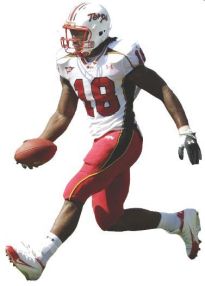 Vernon Davis, TE, 49ers: Alex Smith can't exactly hold a football. But if can ever learn how to grip it, expect many passes to this speedy new TE (pictured) down the seam of any Cover-2 defense.
Sinorice Moss, WR, Giants: Steve Smith, Version 2.0? New York certainly hopes so, as this blazing receiver should perfectly complement Plaxico Burress down the field and Jeremy Shockley over the middle.
DeAngelo Williams, RB, Carolina: The Panthers recently re-signed DeShaun Foster and we think he's worthy of a top selection next season. But Carolina runs the ball so often, even its second back could earn a place on your squad. Remember Nick Goings?
LenDale White, RB, Tennessee: Someone's gotta replace Jerome Bettis as the overweight, bruising back that can be counted on for five carries, three yards and two scores per game. White seems like the surest bet.
Brad Smith, WR, Jets: Matt Jones played QB in college and then caught a few touchdown passes in Jacksonville last season. We can see Smith filling a similar void on a Jets team desperate for offensive firepower.
Marcus Vick, QB, Free Agent: If your league offers points for gun violations.