Sleeper alert! Now that the Panthers have signed DeShaun Foster to a three-year contract, include him among players ready to break out next season.
With the release of Stephen Davis, Foster will finally be Carolina's feature back. This is a running-oriented team that will gladly manage the clock by handing the ball off 25-30 times per game.
This may not be as major a re-signing as Shaun Alexander - and of course you should take last last season's MVP over Foster. But think of this rising star before selecting veteran backs on their way down, such as Ahman Green.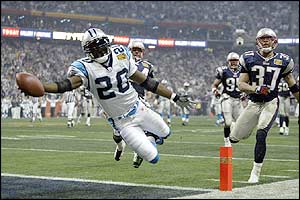 An impressive Super Bowl performance is part of Foster's resume.