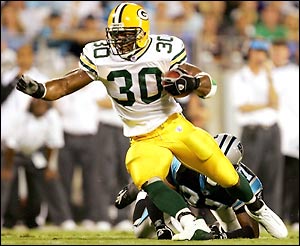 The Packers still aren't sure if Brett Favre is returning for another season or not. But Cheese Heads everywhere can at least take solace in the re-signing of Favre's long-time backfield mate.
After missing most of last season with a torn tendon, Ahman Green has signed on for another year in Green Bay. A consistent 1,000-yard running back, Green may not even be your best fantasy option at RB on the club. If Naj Davenport is healthy, he could be a 2006 sleeper.
Meanwhile, Green has more than just an injury to overcome. He's in legal trouble due to a domestic dispute with his wife last season. If convicted of disorderly conduct, Green could face up to 90 days in jail - and we all saw what a stint behind bars did for Jamal Lewis in 2005.