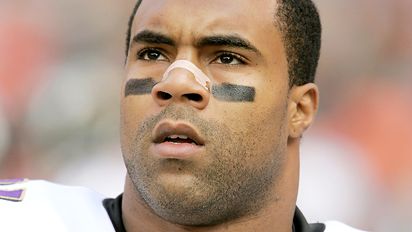 Regarding the future of running back Jamal Lewis, the Baltimore Ravens are undecided and may not use the franchise tag on him, writes Jamison Hensley of the Baltimore Sun.
The Ravens have a week before the NFL deadline that will force them to either place the tag on their all-time leading rusher or let him walk, and G.M. Ozzie Newsome has indicated that the team is weighing all options. Baltimore can stop Lewis, who gained a career-worst 906 yards rushing last season, from becoming a free agent with a one-year offer of $6 million.
Lewis' agent, Mitch Frankel, has talked with the Ravens but doesn't know which way they are leaning.
"I have no idea," Frankel said. "I have no indication one way or another. I won't know for another week."
Even if he is designated a franchise player, it doesn't necessarily mean Lewis will remain with the Ravens. There has been speculation that he would be tagged as such, only to be dealt to Minnesota for quarterback Daunte Culpepper. Other rumors have the Ravens coveting USC running back LenDale White with the 13th overall pick in the draft, which would make Lewis expendable.
Lewis earned $3.5 million last year, the final season of his original six-year, $35.5 million contract he signed as the fifth overall selection in the 2000 draft. He became one of only a handful of rushers to gain more than 2,000 yards in a single season in 2003, but has fallen out of favor since — with fantasy owners as well as his own front office.
He was a first round pick in many a draft last year, and a colossal bust at that. This writer was among those confounded with the decision to take Lewis in the top 10. The University of Tennessee product was simply unable to pull his weight, perhaps due to the extra weight he lugged around the previous offseason, if you know what I am talking about.
I'm talking about handcuffs and leg irons. Lewis spent four months in prison after accepting a plea bargain on federal drug charges, then returned just in time to inflict agony and ruin upon my fantasy team. He is a bad person, and not just because he deals illegal narcotics. Stay as far away from Jamal as possible, whoever he suits up for in 2006.