It's a scenario that seemed unimaginable less than two years ago. Following one of the greatest statisical seasons by a quarterback in NFL history, Daunte Culpepper was one of the most sought after players in the 2005 fantasy draft.
Then, the Vikings traded Randy Moss; then Culpepper severely injured his knee; then there was a well-publicized sex cruise; and then Culpepper's replacement almost led the team to the playoffs.
Now? Minnesota seems open to dealing its 29-year old starting signal-caller. The Minneapolis Star-Tribune reports the Vikings are gauging Culpepper's trade value around the NFL, with the team seeking a second-round draft pick.
The QB and the club are involved in a contract dispute, with the former claiming that he was promised an increase to the paltry $6 million roster bonus he's due on March 14. Owner Zygi Wilf has denied this deal was ever discussed.
If Culpepper is truly on the market, there are many teams in need of a solid starting quarterback. Among them would be: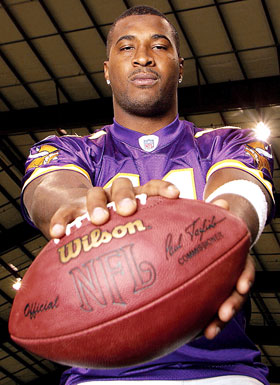 Sources have also speculated that the Ravens might be interested in placing their franchise tag on running back Jamal Lewis and then trading him for Culpepper.
However, health remains a question mark for this former All-Pro. After suffering his injury last season, Culpepper won't be able to practice until the summer at the earliest. A team acquiring him would have to view him as a starter for 2007, while considering any playing time in 2006 to be a welcome surprise.
So, should you take a risk and draft Culpepper in an early round? Approximately 67 million players that made that mistake this season would probably advise against it. Possible replacement, Brad Johnson, may make a solid back-up for a fantasy squad, however.