August 3, 2006
---
… And the Fantasy Football Files Mock Draft rages on into yet another round here today. The teams are starting to come together, and it's going to be a battle each and every week, from the looks of things. Until T.O. gets suspended indefinitely and Larry Johnson blows out his knee, etc.
But for now, it's anyone's game. You've seen the picks from rounds one, two, three, four and five. Now let's get the show on the road and see how picks 51-60 overall went down in our continuing fantasy draft mockery.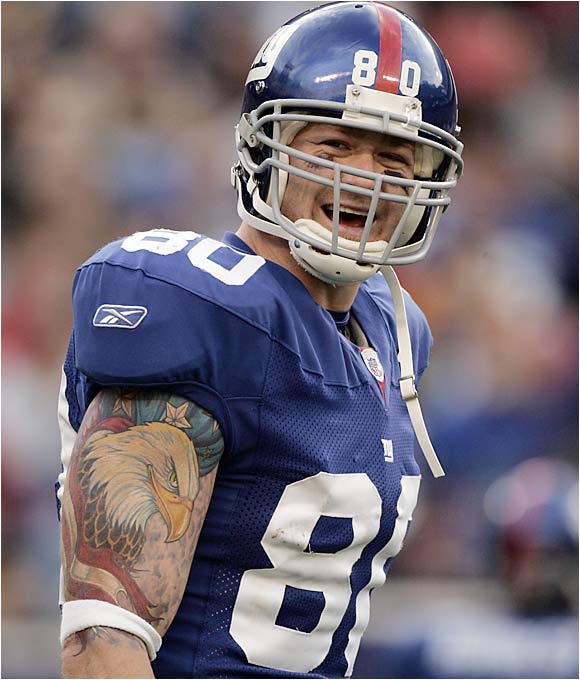 Round Six. The Draft Order:
51. Jeff_Probst_wannabe
52. JamalLewisMustDie
53. Montana2Rice
54. The Deciders
55. Team Ecosystem
56. GoldGlove24
57. Employee001
58. the iForce
59. KissMyTightEnd
60. The Jackie Joyner Kersey Experience
The Unedited Sixth Round:
~~~~~~~~~~~~~~~~~
[Jeff_Probst_wannabe]: Cedric who? I'll take Thomas Jones any day. Or at least on this day. The guy gets overlooked every year, and I just nabbed him out from under all of you. That's right, bitches, get ready for it.
[JamalLewisMustDie]: JamalLewisMustDie would rather die than select Jamal Lewis for a second consecutive year. But, JLMD is feeling some loyalty to the Ravens, and will henceforth sign Todd Heap to a one-year deal.
[Montana2Rice]: Feeling the need for a little Shock therapy, I'll keep the tight end trend going with Jeremy Shockey.
[JamalLewisMustDie]: Mine is better.
[Montana2Rice]: You will die alone.
[Employee001]: You bastard! You know I wanted Shockey!
[Montana2Rice]: I want to sleep with Beyonce tonight. Sometimes we have to get used to disappointment.
[The Deciders]: Alright, moving on. Some of us have work e-mail accounts, remember! Anyhoo, I've never heard of Lee Evans before right now, when I looked at his stats online. This guy is apparently really good! An on my fantasy team!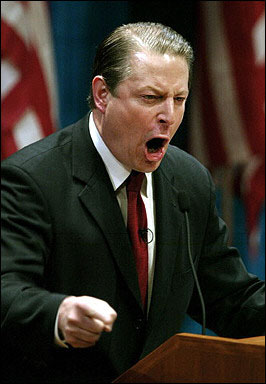 [Team Ecosystem]: I was going to take Al Gore, but since he is out promoting his new movie and not reporting to camp, I'll take the next best thing, Frank Gore.
[GoldGlove24]: Chris "day-to-day" Brown.
[Employee001]: No idea why I am picking a guy who is holding out and not looking like he's showing up to camp anytime soon. I might as well be taking Al Gore… but I will nonetheless take Deion Branch. If he shows up, he will catch the football many times, at least 10 of them in the end zone.
[the iForce]: As a proud secular Jew, I will extend an olive branch to the Islamic community with the selection of Muhsin Muhammad.
[KissMyTightEnd]: I select Marc Bulger. And I have no idea why.
[The Jackie Joyner Kersey Experience]: In an effort to assemble the most upsidest team ever, I'll take Laurence Maroney.
~~~~~~~~~~~~~~~~~
The Rundown, Sans Commentary…
51. Jeff_Probst_wannabe — Thomas Jones, RB, Chicago
52. JamalLewisMustDie — Todd Heap, TE, Baltimore
53. Montana2Rice — Jeremy Shockey, TE, N.Y. Giants
54. The Deciders — Lee Evans, WR, Buffalo
55. Team Ecosystem — Frank Gore, RB, San Francisco
56. GoldGlove24 — Chris Brown, RB, Tennessee
57. Employee001 — Deion Branch, WR, New England
58. the iForce — Muhsin Muhammad, WR, Carolina
59. KissMyTightEnd — Marc Bulger, QB, St. Louis
60. The Jackie Joyner Kersey Experience — Laurence Maroney, RB, New England
THROUGH SIX ROUNDS, BY TEAM:
The Jackie Joyner Kersey Experience:
Larry Johnson, RB, Kansas City
Domanick Davis, RB, Houston
Reggie Bush, RB, New Orleans
Javon Walker, WR, Denver
Joey Galloway, WR, Tampa Bay
Laurence Maroney, RB, New England

KissMyTightEnd:
LaDainian Tomlinson, RB, San Diego
Marvin Harrison, WR, Indianapolis
Randy Moss, WR, Oakland
Reuben Droughns, RB, Cleveland
T.J. Duckett, RB, Atlanta
Marc Bulger, QB, St. Louis
the iForce:
Shaun Alexander, RB, Seattle
Antonio Gates, TE, San Diego
Brian Westbrook, RB, Philadelphia
Tatum Bell, RB, Denver
Chester Taylor, RB, Minnesota
Muhsin Muhammad, WR, Carolina
Employee001:
Tiki Barber, RB, N.Y. Giants
Larry Fitzgerald, WR, Arizona
Willie Parker, RB, Pittsburgh
Plaxico Burress, WR, N.Y. Giants
DeShaun Foster, RB, Carolina
Deion Branch, WR, New England

GoldGlove24:
Edgerrin James, RB, Arizona
Willis McGahee, RB, Buffalo
Julius Jones, RB, Dallas
Chris Chambers, WR, Miami
Andre Johnson, WR, Houston
Chris Brown, RB, Tennessee
Team Ecosystem:
Rudi Johnson, RB, Cincinnati
Chad Johnson, WR, Cincinnati
Kevin Jones, RB, Detroit
Santana Moss, WR, Washington
Tony Gonzalez, TE, Kansas City
Frank Gore, RB, San Francisco
The Deciders:
Peyton Manning, QB, Indianapolis
Carnell Williams, RB, Tampa Bay
Torry Holt, WR, St. Louis
Corey Dillon, RB, New England
Dominic Rhodes, RB, Indianapolis
Lee Evans, WR, Buffalo

Montana2Rice:
Clinton Portis, RB, Washington
Ronnie Brown, RB, Miami
Anquan Boldin, WR, Arizona
Roy Williams, WR, Detroit
Joe Horn, WR, New Orleans
Jeremy Shockey, TE, N.Y. Giants
JamalLewisMustDie:
Terrell Owens, WR, Dallas
Lamont Davis, RB, Oakland
Warrick Dunn, WR, Atlanta
Reggie Wayne, WR, Indianapolis
Carson Palmer, QB, Cincinnati
Todd Heap, TE, Baltimore
Jeff_Probst_wannabe:
Steve Smith, WR, Carolina
Steven Jackson, RB, St. Louis
Hines Ward, WR, Pittsburgh
Tom Brady, QB, New England
Deuce McAllister, RB, New Orleans
Thomas Jones, RB, Chicago