It's finally time for the draft. The Fantasy Football Files mock fantasy draft, that is. Follow along with the 10 experts on our staff as they sift through the talent pool and select their rosters, round by round, e-mail by e-mail, and
insult by insult.
The Draft Order:
1. The Jackie Joyner Kersey Experience
2. KissMyTightEnd
3. the iForce
4. Employee001
5. GoldGlove24
6. Team Ecosystem
7. The Deciders
8. Montana2Rice
9. JamalLewisMustDie
10. Jeff_Probst_wannabe
And now, the Unedited First Round:
~~~~~~~~~~~~~~~~~

[The Jackie Joyner Kersey Experience]: Let's take a look at the first overall picks from the past several years. Ladainian Tomlinson, obviously. Priest Holmes had a few solid years. Even my man so nice they first-named him twice, Shaun Alexander has been taken first. In leagues that value the QB, Peyton Manning goes first overall. And who could forget Boo Williams? (bit of a stretch, I know).
Anyway, to break with tradition of "first round picks with ridiculous names", I'm taking my man in Amsterdam, Mister Larry Johnson.
[KissMyTightEnd]: LJ? Have you taken a look at the Chiefs schedule? Tough matchups for him early on - especially "LJ vs. orthopetic surgeon" in week 4. I'll take LT.
[the iForce]: Oh no, I can't have Tomlinson and the defenses he'll face with a new quarterback, Philip Rivers, behind center? That's one "L" of a loss for my squad! Give me Shaun Alexander.
[KissMyTightEnd]: Alexander?! Figured you would pick the most metrosexual running back in football. What - Tiki's face isn't smooth enough for you?
[Employee001]: I choose Tiki Barber. And chat rooms for the next mock draft. And a dental plan.
[GoldGlove24]: If Tiki is gone, the #5 pick could be either the worst or best pick in the draft, depending upon your opinion of Edgerrin James in Arizona. Of course there will be a drop off in production, but if you don't think it will be much, James at #5 is a steal.
However, if you anticipate a more dramatic drop off, you now have to debate whether to take Rudi Johnson or Stephen Jackson too high, or risk Edgerrin James. This team is gonna take the leap with Edgerrin.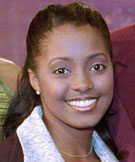 [Team Ecosystem]: Rudi Johnson. Why? Because Rudi Huxtable (left) doesn't have a solid O-line blocking for her. Also, because I think she's serving a four-game suspension to start the season. Possible late-round sleeper, though.
[The Deciders]: 7 picks, 60 minutes. Who are the ad wizards behind this one? I think Peyton - but am wary about picking a QB, because at this I may be able to get Brady Quinn in a late round. I'll start with Peyton.
[Montana2Rice]: Peyton Manning? He comes through in the clutch almost as often as I find original critiques of him. Clinton Portis, however? His teams never lose in the first round of the playoffs.
[KissMyTightEnd]: I thought this was about stats? I hate you.
[JamalLewisMustDie]: Last year, around this time, I picked Jamal Lewis. We all know how that worked out.
The safe route would be for JamalLewisMustDie to select the best running back available with this, the 9th overall selection, but I am going to ignore conventional wisdom the way Richenthal would a third base coach in softball — in other words, making a thoroughly awful, selfish decision that adversely impacts the whole team.
I pick Terrell Owens.
[The Jackie Joyner Kersey Experience] Jamal Lewis is still available? Trade up, TJJKE, trade up!
[The Deciders] Jackie Joyner Exp - are you in NYC? Want to go halfsies on an escort in between rounds?
[Jeff_Probst_wannabe] J_P_w selects MVSmith with the last pick of the 1st round. If you don't know why and/or think this was a reach, you clearly don't watch fooball.
[Team Ecosystem] Luke wins the "Fake Draft/Fake Players" award. Who is MV Smith? I know you're not trying to combine MVP with Steve Smith. You should instead try to combine 7 to 8 additional inches to Steve Smith.
~~~~~~~~~~~~~~~~~
The Rundown, Sans Commentary…
1. The Jackie Joyner Kersey Experience — Larry Johnson, RB, Kansas City
2. KissMyTightEnd — LaDainian Tomlinson, RB, San Diego
3. the iForce — Shaun Alexander, RB, Seattle
4. Employee001 — Tiki Barber, RB, N.Y. Giants
5. GoldGlove24 — Edgerrin James, RB, Arizona
6. Team Ecosystem — Rudi Johnson, RB, Cincinnati
7. The Deciders — Peyton Manning, QB, Indianapolis
8. Montana2Rice — Clinton Portis, RB, Washington
9. JamalLewisMustDie — Terrell Owens, WR, Dallas
10. Jeff_Probst_wannabe — Steve Smith, WR, Carolina