The official Mock Draft rages on here at the Fantasy Football Files. It's been a blast from the get-go, and our experts have just completed another round of selections. It's not easy to transcribe every round to you, our readers, but that's just part of the territory when you're professionals. People depend on us, and we have every intention of helping you with your draft by giving you an inside look into ours.
If you need to catch up, check out these links to our first, second, third and fourth rounds. Now, on to the latest and greatest (well, in some cases) fantasy football picks…
The Fifth Round Draft Order: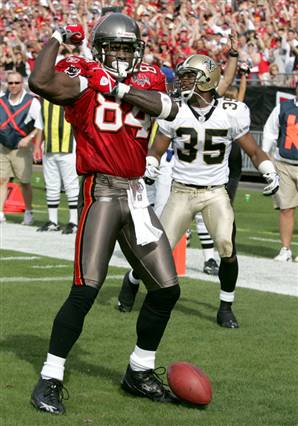 41. The Jackie Joyner Kersey Experience
42. KissMyTightEnd
43. the iForce
44. Employee001
45. GoldGlove24
46. Team Ecosystem
47. The Deciders
48. Montana2Rice
49. JamalLewisMustDie
50. Jeff_Probst_wannabe
The Unedited Fifth Round:
~~~~~~~~~~~~~~~~~
[The Jackie Joyner Kersey Experience]: Joey Galloway.
[KissMyTightEnd]: T.J. Duckett.

[the iForce]: Chester Taylor.
[Employee001]: DeShaun Foster.
[GoldGlove24]: Andre Johnson.
[Team Ecosystem]: Tony Gonzalez.
[The Deciders]: Dominic Rhodes
[Montana2Rice]: Joe Horn.
[JamalLewisMustDie]: Carson Palmer.
[Jeff_Probst_wannabe]: Deuce McAllister.
~~~~~~~~~~~~~~~~~
The Rundown, Sans Commentary…

41. The Jackie Joyner Kersey Experience — Joey Galloway, WR, Tampa Bay
42. KissMyTightEnd — T.J. Duckett, RB, Atlanta
43. the iForce — Chester Taylor, RB, Minnesota
44. Employee001 — DeShaun Foster, RB, Carolina
45. GoldGlove24 — Andre Johnson, WR, Houston
46. Team Ecosystem — Tony Gonzalez, TE, Kansas City
47. The Deciders — Dominic Rhodes, RB, Indianapolis
48. Montana2Rice — Joe Horn, WR, New Orleans
49. JamalLewisMustDie — Carson Palmer, QB, Cincinnati
50. Jeff_Probst_wannabe — Deuce McAllister, RB, New Orleans
THROUGH FIVE ROUNDS, BY TEAM:
The Jackie Joyner Kersey Experience:
Larry Johnson, RB, Kansas City
Domanick Davis, RB, Houston
Reggie Bush, RB, New Orleans
Javon Walker, WR, Denver
Joey Galloway, WR, Tampa Bay
KissMyTightEnd:
LaDainian Tomlinson, RB, San Diego
Marvin Harrison, WR, Indianapolis
Randy Moss, WR, Oakland
Reuben Droughns, RB, Cleveland
T.J. Duckett, RB, Atlanta
the iForce:
Shaun Alexander, RB, Seattle
Antonio Gates, TE, San Diego
Brian Westbrook, RB, Philadelphia
Tatum Bell, RB, Denver
Chester Taylor, RB, Minnesota
Employee001:
Tiki Barber, RB, N.Y. Giants
Larry Fitzgerald, WR, Arizona
Willie Parker, RB, Pittsburgh
Plaxico Burress, WR, N.Y. Giants
DeShaun Foster, RB, Carolina
GoldGlove24:
Edgerrin James, RB, Arizona
Willis McGahee, RB, Buffalo
Julius Jones, RB, Dallas
Chris Chambers, WR, Miami
Andre Johnson, WR, Houston
Team Ecosystem:
Rudi Johnson, RB, Cincinnati
Chad Johnson, WR, Cincinnati
Kevin Jones, RB, Detroit
Santana Moss, WR, Washington
Tony Gonzalez, TE, Kansas City
The Deciders:
Peyton Manning, QB, Indianapolis
Carnell Williams, RB, Tampa Bay
Torry Holt, WR, St. Louis
Corey Dillon, RB, New England
Dominic Rhodes, RB, Indianapolis
Montana2Rice:
Clinton Portis, RB, Washington
Ronnie Brown, RB, Miami
Anquan Boldin, WR, Arizona
Roy Williams, WR, Detroit
Joe Horn, WR, New Orleans
JamalLewisMustDie:
Terrell Owens, WR, Dallas
Lamont Davis, RB, Oakland
Warrick Dunn, WR, Atlanta
Reggie Wayne, WR, Indianapolis
Carson Palmer, QB, Cincinnati
Jeff_Probst_wannabe:
Steve Smith, WR, Carolina
Steven Jackson, RB, St. Louis
Hines Ward, WR, Pittsburgh
Tom Brady, QB, New England
Deuce McAllister, RB, New Orleans