Yes, the commentary is petering out. But the Fantasy Football Files Mock Draft is still going, as our experts have now completed round three.
See how it all started in the good ol' days of the first round, then get the skinny on the second round. Below is the full rundown of the Files' fantasy draft's third round, beginning with the 21st overall pick. Watch with amusement as the The Jackie Joyner Kersey Experience loads up on running backs and others load up on receiving threats. Which will pay off?
The Draft Order:
21. The Jackie Joyner Kersey Experience
22. KissMyTightEnd
23. the iForce
24. Employee001
25. GoldGlove24
26. Team Ecosystem
27. The Deciders
28. Montana2Rice
29. JamalLewisMustDie
30. Jeff_Probst_wannabe
And now, the Unedited Third Round:
~~~~~~~~~~~~~~~~~
[The Jackie Joyner Kersey Experience]: … the once future Texan (who plays for the Saints), Reggie Bush.
[KissMyTightEnd]: He hasn't run over a police officer in two years. I'll take Randy Moss.
[the iForce]: The other Brian - Westbrook.
[Employee001]: The temptation here is to pick the alliterative Julius Jones, but I must pass on him in favor of Pittsburgh's Willie Parker for three reasons:
1. I hate Dallas
2. Pittsburgh's run-heavy offense may become even more dependent upon
the ground game now that their QB's face is broken.
3. Imagine how many more goal line carries Parker may potentially
receive now that Jerome Bettis is gone. To say nothing of the extra food
during team dinners.
With the Bus parked for good and no longer a factor at the buffet line, Willie will get the extra nourishment he needs to build strength andbecome an elite back.
[GoldGlove24]: Julius Jones.
(72 hours later)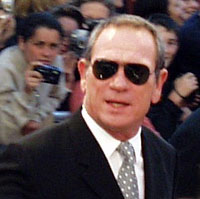 [Team Ecosystem]: Has it been my pick all this time? Apologies. I'll take director/actor/running back triple threat Kevin "Smith/Tommy Lee" Jones, who should see marked improvement in the new Lions system. Oh, who am I kidding? That team is still going to be terrible.
[The Deciders]: Torry Holt.
[Montana2Rice]: Anquan Boldin.
[JamalLewisMustDie]: Warrick Dunn.

[Jeff_Probst_wannabe]: Hines Ward.
~~~~~~~~~~~~~~~~~
The Rundown, Sans Commentary…
21. The Jackie Joyner Kersey Experience — Reggie Bush, RB, Houston
22. KissMyTightEnd — Randy Moss, WR, Oakland
23. the iForce — Brian Westbrook, RB, Philadelphia
24. Employee001 — Willie Parker, RB, Pittsburgh
25. GoldGlove24 — Julius Jones, RB, Dallas
26. Team Ecosystem — Kevin Jones, RB, Detroit
27. The Deciders — Torry Holt, WR, St. Louis
28. Montana2Rice — Anquan Boldin, WR, Arizona
29. JamalLewisMustDie — Warrick Dunn, WR, Atlanta
30. Jeff_Probst_wannabe — Hines Ward, WR, Pittsburgh
THROUGH THREE ROUNDS, BY TEAM:
The Jackie Joyner Kersey Experience:
Larry Johnson, RB, Kansas City
Domanick Davis, RB, Houston
Reggie Bush, RB, New Orleans
KissMyTightEnd:
LaDainian Tomlinson, RB, San Diego
Marvin Harrison, WR, Indianapolis
Randy Moss, WR, Oakland
the iForce:
Shaun Alexander, RB, Seattle
Antonio Gates, TE, San Diego
Brian Westbrook, RB, Philadelphia
Employee001:
Tiki Barber, RB, N.Y. Giants
Larry Fitzgerald, WR, Arizona
Willie Parker, RB, Pittsburgh

GoldGlove24:
Edgerrin James, RB, Arizona
Willis McGahee, RB, Buffalo
Julius Jones, RB, Dallas
Team Ecosystem:
Rudi Johnson, RB, Cincinnati
Chad Johnson, WR, Cincinnati
Kevin Jones, RB, Detroit

The Deciders:
Peyton Manning, QB, Indianapolis
Carnell Williams, RB, Tampa Bay
Torry Holt, WR, St. Louis

Montana2Rice:
Clinton Portis, RB, Washington
Ronnie Brown, RB, Miami
Anquan Boldin, WR, Arizona

JamalLewisMustDie:
Terrell Owens, WR, Dallas
Lamont Davis, RB, Oakland
Warrick Dunn, WR, Atlanta
Jeff_Probst_wannabe:
Steve Smith, WR, Carolina
Steven Jackson, RB, St. Louis
Hines Ward, WR, Pittsburgh