With the Fantasy Football Files Mock Draft in full swing, our experts wasted no time getting down to business in round two. Actually, that's a complete lie. Plenty of time was wasted. Some of them actually have jobs that don't entail running fantasy football sites. Tragic.
See how it all began in the first round. Then see below for the rundown on the second round of the Files' official draft. The draft order, as is customary, is now reversed, with the lowly owner of the 10th overall pick, Jeff_Probst_wannabe, picking first — underscores and all.
The Draft Order: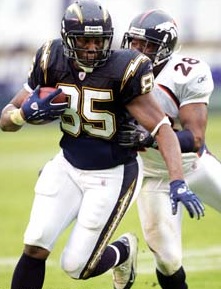 11. Jeff_Probst_wannabe
12. JamalLewisMustDie
13. Montana2Rice
14. The Deciders
15. Team Ecosystem
16. GoldGlove24
17. Employee001
18. the iForce
19. KissMyTightEnd
20. The Jackie Joyner Kersey Experience
And now, the Unedited Second Round:
~~~~~~~~~~~~~~~~~
[Jeff_Probst_wannabe]: Jeff_Probst_wannabe starts out the 2nd round with Stephen [sic] Jackson. Always bet on black. And a team no longer led by Mike Martz.
[JamalLewisMustDie]: JamalLewisMustDie must now select who will take Jamal Lewis' role as colossal, overrated running back bust. It's too early to tell, but we feel Lamont Jordan is up to the task.

[Montana2Rice]: With Daunte Culpepper on the verge of being knee-less any day now - and Joey Harrington as Miami's reliable back-up - we're gonna assume the Dolphins run the ball a lot. Come on down, Ronnie Brown.
[The Deciders]: There's a round TWO? Steven Jackson - is that someone? I'll take him.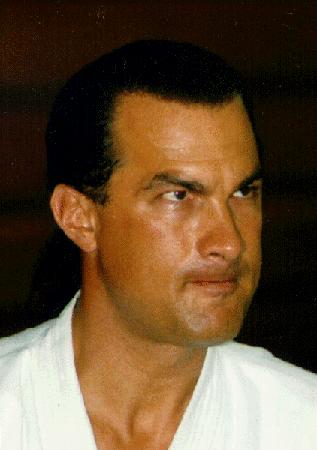 [Team Ecosystem]: Steven Jackson was already taken. Both Steven Segal (left) and Action Jackson are still around, though. Note: I will trade up for Action Jackson
[The Deciders]: My turn again? Carnell Williams
[Team Ecosystem]: As I am attempting to do my best Richenthal impression, I plan to grab as many Johnsons as I can today. Chad Johnson
[GoldGlove24]: Hard to pass up Willis McGahee with this pick - he's the best of a small core of remaining 1st teir [sic] RBs which includes Dominick Davis, Brian Westbrook, and Julius Jones. McGahee only scoring 5 TDs despite 1250 yards last year has to be considered an anomoly [sic] and that he'll bounce back.
[Employee001]: It is a great honor for Employee001 to bring back one of his favorite fantasy employees, Larry Fitzgerald, for a third consecutive season.
[the iForce]: Let's open the flood Gates of scoring, huh, gents? Antonio, it is.
[The Deciders]: (throwing up into shirt)
[The Jackie Joyner Kersey Experience]: Throwing up into shirt? Sounds like something Chris Henry would do. Bit of a reach on that pick.
[The Deciders]: Marvin Harrison.
[The Jackie Joyner Kersey Experience]: I will take the once and current Texan, Domanick Davis, and…
~~~~~~~~~~~~~~~~~
The Rundown, Sans Commentary…
11. Jeff_Probst_wannabe — Steven Jackson, RB, St. Louis
12. JamalLewisMustDie — Lamont Davis, RB, Oakland
13. Montana2Rice — Ronnie Brown, RB, Miami
14. The Deciders — Carnell Williams, RB, Tampa Bay
15. Team Ecosystem — Chad Johnson, WR, Cincinnati
16. GoldGlove24 — Willis McGahee, RB, Buffalo
17. Employee001 — Larry Fitzgerald, WR, Arizona
18. the iForce — Antonio Gates, TE, San Diego
19. KissMyTightEnd — Marvin Harrison, WR, Indianapolis
20. The Jackie Joyner Kersey Experience — Domanick Davis, RB, Houston