We love the now svelte scribe for Sports Illustrated - but to say his recent predictions and advice have been off base is an understatement.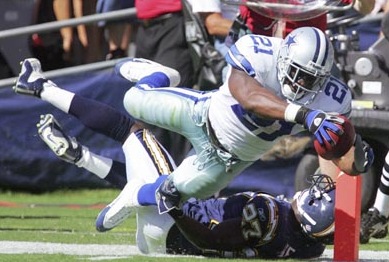 Two years ago, King foresaw an MVP trophy for Denver quarterback, Jake Plummer. That didn't exactly pan out.
Last year, the writer jumped aboard the Julius Jones bandwagon, causing at least one expert from The Files to select the Dallas RB early in his fantasy football draft. The 1,500 yards King predicted didn't pan out - Jones never once rushed for more than 100 in a 2005 game.
Now? The latest issue of SI provides readers with this nugget from King: fantasy football running backs are overrated. Any first round selection outside the top few MUST be Peyton Manning.
Nevermind that Manning's numbers last year were scarcely better than those of Tom Brady; or that rushing TDs are worth more than passing ones in fantasy football.
But go ahead and believe King if you'd like to. Maybe you also wanna pick up Plummer in the second round.