The Indianapolis Colts apparently don't think Reggie Wayne deserves to be designated their "franchise player." They think he deserves even better.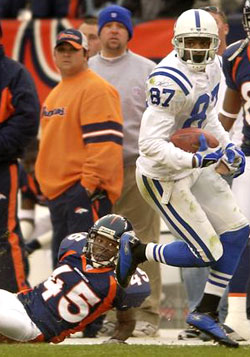 The receiver signed six-year contract worth approximately $40 million, according to the Indianapolis Star.
Many football gurus, including those at the Files, expected Wayne to be slapped with the franchise tag, which would have kept him in Indianapolis for one year a salary commensurate with the league's top receivers. But agent David Dunn announced that his client signed a six-year deal that includes bonuses of nearly $13.5 million.
The contract keeps Wayne with Colts through 2011 season and cements the elite receiving corps that Peyton Manning has used to power the team for years. Seven-time Pro Bowler Marvin Harrison and talented Brandon Stokley will also be back in 2006 and hopefully beyond.
A team can only use franchise designation on one free agent per season. Linebacker David Thornton (who would cost $7.169 million if tagged) or defensive end Raheem Brock ($8.332 million) are the top candidates, with the prevailing wisdom in Indy being that the team will let star running back Edgerrin James walk.
G.M. Bill Polian reiterated last week that it would be virtually impossible to use the tag once again on James, who was franchised a year ago and would set the Colts back $11 million next season under the same circumstances. He said that retaining James and Wayne would significant changes in the current roster — ones he may not wish to make — to get Indy under the $95 million salary cap.
Wayne, 27, led the Colts with a career-high 83 receptions in 2005, ending Harrison's six-year run as the team's leading receiver. He has registered 304 receptions for 4,164 yards and 28 touchdowns in five seasons. Even if he isn't the first option on his own team, Wayne is good enough to be a third-round pick in any fantasy draft, and is probably one of the top 15 wideouts in the NFL.
The New Orleans native and former Miami Hurricane is also the favorite player of James A. Woodcock, a close friend of the Files. So bump his stock up another notch yet.