As the free agency and salary cap situation grows more confusing by the day, at least one piece of league news makes perfect sense:
The NFC-champion Seahawks have resigned Shaun Alexander. The eight-year, $62 millio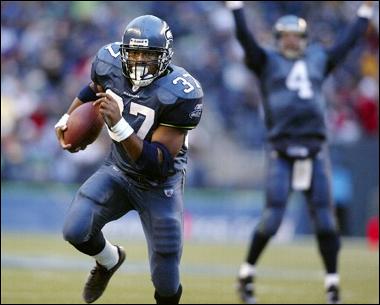 n deal makes this reigning MVP the highest paid running back of all time. Coming off a season in which he broke the single-season touchdown record and led Seattle to the Super Bowl, Alexander should be the centerpiece of another strong offensive attack in the Emerald City.
Does that mean he should be your league's number-one pick next season? It seems like a no-brainer, but can he really cross the goal line that many times again? And can you imagine a full season's worth of starts for Larry Johnson in K.C.? You can't forget about LaDainian Tomlinson, either.
Alexander's signing does now mean that Edgerrin James will be the most sought after free agent on the market. The Colts have stated the odds of keeping an Edge to their offense as 50/50.