No matter what fantasy football league you participate in, you won't be able to draft offensive linemen. This is a given. Systems can't exactly reward points for pancake blocks. Nevertheless, a couple recent signings/cuts may affect your drafting strategy for the most important fantasy position: running back.
Let's start in Seattle. The Seahawks did NOT match the offer to star guard, Steve Hutchinson. What will his signing with Minnesota mean for reigning MVP, Shaun Alexander? Most pundits believed that Alexander's last couple of stellar seasons were due, in large part, to the league's top offensive line in front of him.
So, is he still worthy of a top pick?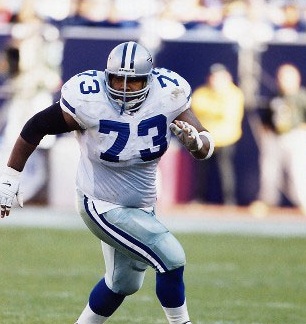 In Dallas, meanwhile, players news continues to make fantasy waves. First, Terrell Owens signed. He's a jerk. Not receiving as much publicity, however, was this week's release of All-Pro lineman, Larry Allen. A really fat anchor on the line for 12 years on the team, Allen opened up holes for Julius Jones last season.
Where do you draft that running back now? And how many times will the statue known as Drew Bledsoe be sacked as a result of this decision?
The true fantasy football players follow such moves as these. They know, for example, that Keyshawn Johnson signing with the Giants affects more than just your wide receiver selection. This would also enhance New York's running game because Keyshawn can, at least, block. It may bump Tiki Barber up even higher on your chart.