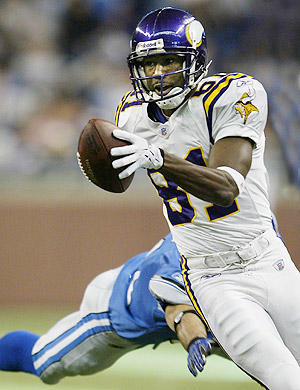 The wide receiver derby continues. Eric Moulds was the latest to change teams … until Nate Burleson signed with the Seahawks. Originally from the Emerald City, Burelson signed a seven-year contract that could be worth as much as $49 million.
The signing could be considered pay back for Seattle. After Minnesota nabbed star lineman Steve Hutchinson in free agency, the Seahawks locked up the player that was supposed to have taken over for Randy Moss last season. Burleson was a let down, however. Many fantasy teams that took a risk on him in an early round regretted the decision soon after.
The addition of Burleson can only increase the value of Matt Hasselback on your fantasy squad. The signal caller could be one of the top five quarterbacks taken in your draft.