It's Hawaii. The season is over. Most NFL players chosen for the Pro Bowl are sleeping in, lounging by the pool, spending time with friends and family.
Not Tiki Barber. As reported by NFL.com, the New York Giants running back was relaxing by the pool when Captain Rob Wolfe approached him and chatted about football, the military and life in general. Captain Wolfe is in charge of the 2nd Battalion, 35th Infantry based in Hawaii.
During the conversation, Captain Wolfe invited Barber on a morning run with his battalion. Instead of laughing off the concept of waking before the sun, Barber felt strongly about supporting the military.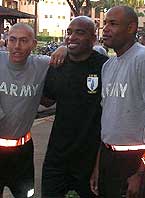 At 5:45 a.m. on February 7, Tiki was in the hotel lobby when Captain Wolfe pulled up. This stalwart player proceded to lead one-hundred fifteen men through the early morning darkness. We always knew he was a great runner, but apparently Barber also knows how to throw a few lead blocks.
"These young guys and families make great sacrifices everyday," Captain Wolfe said. "To have someone like Tiki Barber come here see them is huge. I can talk and lead and try to motivate them until I'm blue in the face. But to have a professional football player come here to tell them [he] believes in what they are doing gives them a sense of purpose that I can't provide."
When the run was over, Barber was the one left impressed.
"Athletes and entertainers get a lot accolades in our society. But the fact is that our country is what it is because of the freedom we have. The men and women of the military keep that peace and provide the freedom we enjoy on a daily basis," he said.
After years of being overlooked, Tiki stands to become a top fantasy draft pick next season. Through words and actions such as the ones described here, he'd be a selection of which any player would be proud.