Quarterback Drew Brees has signed with the New Orleans Saints, rebuffing a final offer to remain with San Diego, reports that city's Union-Tribune.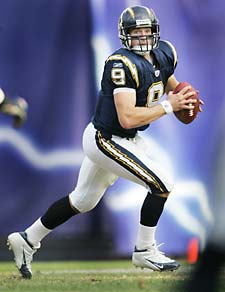 The Chargers offered Brees $50 million over six years, but most of that money was not guaranteed. He would have been paid $2 million guaranteed next season with the opportunity to make up to $8 million more based on playing time, with a similar structure in the forthcoming years.
But Brees, 27, wanted a bigger financial commitment, and so his turbulent career with the Chargers, which was resuscitated even after the team drafted Philip Rivers to replace him two years ago, is finally over. The Saints' offer of $60 million over six years, with a $10 million signing bonus, was too much for him to turn down. Miami reportedly engaged in the bidding over Brees, but dropped out when it traded for Daunte Culpepper.
The former Purdue star was the team's starter in 2002 and the majority of a horrible 2003 season. In 2004, Brees defiantly kept his starting job by turning in one of the best seasons by a quarterback in franchise history and making the Pro Bowl. He followed that up with a solid 2005 season, but suffered a separated shoulder and partial rotator cuff tear in the finale. He had surgery January 5 and says he is ready to play this season.
The injury is a concern for New Orleans and fantasy owners alike, but Brees has proven his toughness in the starter's role. With Joe Horn and Deuce McAllister as his chief weapons, he can do damage in the Big Easy. He's certainly a better bet than Rivers, at least until the former N.C. State star shows what he can do. As for former Saints starer Aaron Brooks, who the heck knows what that guy is up to.