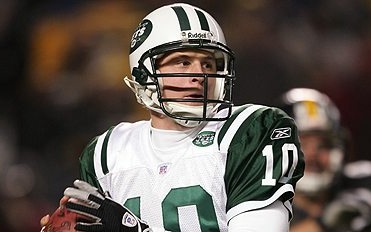 The sticky situation regarding Chad Pennington could be resolved later this week as the NFL scouting combine commences, the Newark Star-Ledger reports. But it's not looking like the former Marshall star will remain with Gang Green.
Pennington's refusal to accept the Jets' proposal to cut his salary from $8 million to $1 million (while having him make up difference through incentives) means the quarterback is likely on the way out, according to the New York Daily News.
The Jets have the fourth overall pick in the NFL Draft and new coach Eric Mangini is reportedly targeting Vanderbilt quarterback Jay Cutler, who turned in an impressive performance at the Senior Bowl. Another good showing at the combine could mean Cutler is the guy… and Pennington is officially done in New York.
Chadwick Pennington signed an eight-year, $64 million contract in 2004, but two major shoulder surgeries later, the Jets are concerned that he will ever regain starting-caliber form. He is due to make $9 million in 2006 (a $3 million roster bonus due March 3, plus $6 million in base salary). He is scheduled to count $15 million against the 2006 salary cap, so by cutting him, the Jets would get stuck with $12 million in "dead" money — but would net $3 million in savings.
If Pennington gets released, he will surely end up somewhere at a lower salary. While he may not be guaranteed a starting job, he's got the talent to thrive when he's healthy, so don't cross him off the fantasy board just yet. As for Cutler, it's hard to see the Jets turning over their offense to a guy from Vanderbilt. Have they had a winning season since Reconstruction? Then again, if you look at their current list of signal-callers, it doesn't seem like you could do any worse.