The fifth leading rusher in NFL history may be heading to the broadcast booth, but fans will be able to watch the back fourth on that list run wild on the field for at least one more season.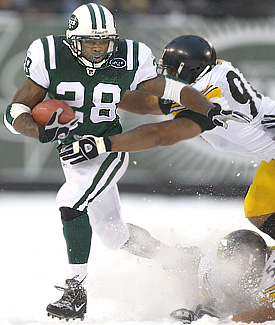 While terms and length were undisclosed, the Jets agreed to restructure the contract of Curtis Martin yesterday. He'll be entering his 12th season in the league - ninth in New York. General Manager Mike Tannenbaum made the announcement:
"Curtis Martin is a special person and a player destined for the Pro Football Hall of Fame. He has confirmed through his actions that he is always seeking ways to help the New York Jets win football games and to lead the team both verbally and through his extremely high level of play."
But will Martin be taking the handoffs from a different starting quarterback? The team is still negotiating a new deal with Chad Pennington, but it appears unlikely the injured signal caller will accept a drastic pay cut.
While Martin missed four games last season with injuries, he's only a year removed from leading the league in rushing. No longer an elite back worthy of a first or second round selection for any fantasy team, Martin could be a solid back-up or third stringer. New Yorkers should be proud to include him and Tiki Barber as their team's respective starters.