February 21, 2006
---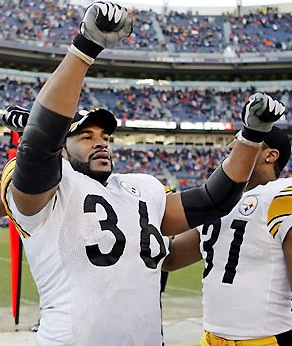 The Bus stopped in Detroit with the Pittsburgh Steelers' win in Super Bowl XL. But it's refueling and getting ready for another trip… albeit one without the physical punishment.
The broadcast booth.
Just a few weeks into retirement, Jerome Bettis has joined NBC as a studio analyst for Sunday night football games, according to the Associated Press. The future Hall of Fame running back went out on top as his Steelers beat the Seattle Seahawks, 21-10, for the league title in his hometown of Detroit. With NBC taking over Sunday night games next year, Bettis seized an opportunity to stay in football and begin a new career.
His first game as a member of the media will, fittingly, be in Pittsburgh on Thursday, September 7. The Steelers will receive their Super Bowl rings and open their title defense with #36 cheering them on… impartially, of course.
"I am looking forward to this new opportunity and to still be involved in the game I love," Bettis said. "That night will be the proudest of my life. I will finally get my ring and I will start my new career in television in front of all the Steelers fans."
The Bus made it to fifth all-time on the NFL's career rushing list after 13 great seasons. In recent seasons, he was relegated somewhat, to short-yardage or goal-line situations. You can bet that Bettis will be a proud and happy man when next season opens in the Steel City. You can also bet that Willie Parker, who became the Steelers' feature running back this year, will skyrocket in fantasy value without the Bus bogarting half his TDs.