Last season, the West Texas A&M Buffaloes were 10-2 and led Division II in passing offense. Apparently Head Coach Don Carthel has grown sick of that sort of success. What else would explain his decision to sign uber-bust, Ryan Leaf, as his new quarterbacks coach?!?
The mercurial, selfish, incredibly awful Leaf was selected second overall (behind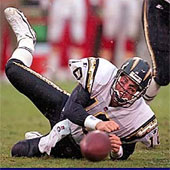 Peyton Manning) in the 1998 draft. He didn't last long in San Diego, however, creating problems off the field while throwing 36 interceptions on it.
"I feel very honored to be a part of coach Carthel's staff and a part of an up-and-coming, successful program," the 29-year-old Leaf said.
The chances of that program continuing its winning ways now? Slim. The odds of any Buffaloes' QB being drafted as long as Leaf is his coach? None. While the Chargers may be facing a starting quarterback dilemma heading into next season, they can at least be happy this former flameout isn't an option any longer.