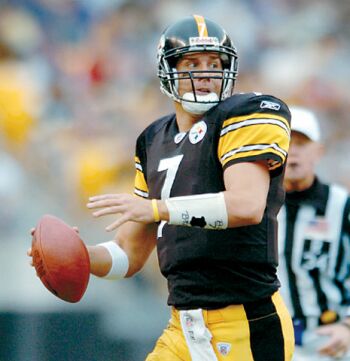 Thank goodness Ben Roethlisberger is okay - now we can return to what's really important: where should you select the Pittsburgh quarterback in your fantasy football draft?
In his first public appearance since a motorcycle accident, Big Ben explained how close he was to landing in the Super Bowl in the sky:
"They told me that I was literally seconds, maybe a minute away from dying because I slit a vein or artery in my mouth or my throat and it was draining blood right into my stomach and luckily the paramedic noticed it and stopped it or else I would have had too much blood in my stomach," he said.
Ouch. Amazingly, Roethlisberger is on pace to start the season for the defending champions. He also won't make a bad fantasy player.
Although The Files do not have him among our top 10 fantasy football quarterbacks, a player may be well-served to focus on other needs and grab the Pittsburgh star in a later round. With a surge and confidence - and a newfound appreciation for life - this would be a solid starter for any squad.