August 10, 2006
---
Are you ready for some football, Daunte Culpepper?!?
Fortunately for Miami fans, the answer appears tobe YES. Culpepper will start theDolphins' exhibition opener Saturday, less than 10 months after a serious knee injury ended his 2005 season, coach Nick Saban said Thursday.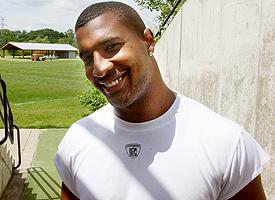 When the Dolphins acquired Culpepper in March from the Minnesota Vikings, there were concerns he might not healthy for the start of the regular season. But he has participated in every training camp practice and received medical clearance to play Saturday against Jacksonville.
"He has done everything in practice that he needs to do," Saban said. "And he wants to play."
Like all starters, though, he won't see very much action. Saban will give snaps to other quarterbacks on the roster, including new backup Joey Harrington, Cleo Lemon and Brock Berlin.