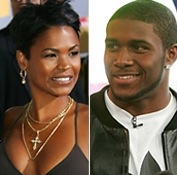 Where should you draft Reggie Bush in your fantasy football league? It's probably the most common question
The Files staff receives.
On one hand, we have no idea how many touches the phenom will have in New Orleans per game. Or how the speed of NFL defenses may catch up to him.
On the other hand, have you seen some of this guy's cuts? He could sprint circles around any team.
Now there's a third hand. What about off the field distractions slowing Reggie down? Sources close to Nia Long claim her and Bush are not seeing each other … but hey took a picture together at a party and speculation has not stopping swirling since.
The plot thickens, however, as a TMZ.com source identified Reggie as the unknown man who Nia was with last month at an LA mall when a fight broke out between the running back and Long's ex, Massai Z. Dorsey.
Oh, snap! And not the football kind! It's hard to say how dating a famous beauty will affect the Saints star, but it could be worth keeping your eye on.