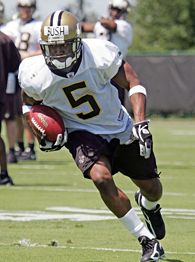 Hmmm … perhaps dating a beautiful actress will work out okay for Reggie Bush after after. Or it could just be that incredible talent.
Whatever the reason, the Saints rookie ran up 59 yards on just six carries in his preseason, NFL debut. He also grabbed two passes for 10 years, exciting New Orleans fans down south and rising up fantasy football draft boards around the nation.
Other notable preseason news includes healthy sets of downs for Daunte Culpepper and Ben Roethlisberger. Miami and Pittsburgh may have both lost, but their fans don't care. The quarterbacks walked away from the action in one piece.