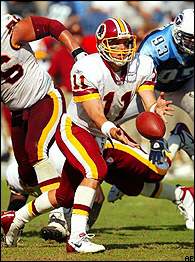 One of the worst kept secrets of the NFL rumor mill has become a reality. The Jets and Redskins completed a deal for Patrick Ramsey this week. In exchange for a sixth round pick in this year's draft, New York picks up its potential future quarterback.
Ramsey began last season as a started in Washington before giving way to Mark Brunell. He'll be used as an insurance policy in the Big Apple, in case Chad Pennington doesn't return successfully from shoulder surgery.
No matter who's behind center for the Jets, don't waste a single fantasy draft pick on him. Both QBs must prove their worth.