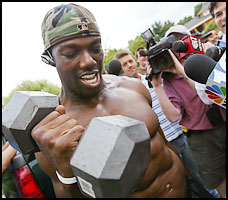 Uh-oh, Dallas fans. Terrell Owens missed practice Friday with a sore left hamstring. He was nowhere to be found on the field, but rather on the exercise bike.
Sadly, for all TO haters, the injury doesn't appear very serious. He said Thursday he wasn't sure whether he'd be ready to practice for Friday's two workouts or Saturday's controlled scrimmage. However, Cowboys owner Jerry Jones said he's not too worried and there are no plans for Owens to undergo an MRI.
He's still our top-rated wide receiver and probably worthy of a first round selection in your fantasy football draft. But he still sucks big time.