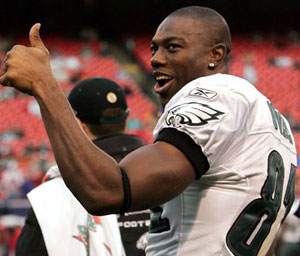 Draft Terrell Owens for your fantasy football league at your own risk. We have no idea what other advice to offer on the Dallas receiver.
"I think everybody has overslept, you know, once or twice in their life," Owens said, in response to the $9,500 fine he received for missing a team meeting.
You'd think the multi, multi-millionaire to afford a better alarm clock. Or perhaps an wake-up service.
Nevertheless, T.O. slowly entering the dog house of Bill Parcells, as well as having an injured hamstring, makes him a risky starter on your squad. We've got him ranked as the number-one fantasy football wide receiver at the moment.
But that's only if he actually gets on the field.