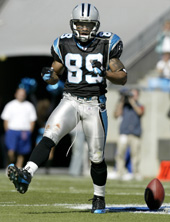 He took over fantasy football last season as much as any player since Peyton Manning … the year before.
Nevertheless, Steve Smith dominated his position in 2006 and made himself the obvious first wide receiver taken in any fantasy draft this season. Okay, so the Files still have Terrell Owens going first, but Smith is still really good.
These two wide outs have something else in common, though: both have injured hamstrings. In fact, Smith will miss Carolina's first preseason game this weekend as a result of it. He's missed 13 straight days of training camp overall.
It's a bit early to panic and change up your fantasy draft board - but this is certainly something to keep your eye on.