Of all the signs that you're close to being released, not being allowed into your team's training complex would rank along the top of the list. This is the obstacle that Tennessee quarterback Steve McNair recently ran into.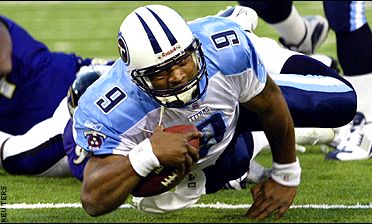 Along with Peyton Manning, McNair was the league's co-MVP in 2003. But that wasn't enough to permit entrance into the Titans' work out building for the 11-year veteran. The team's general counsel told McNair's agent they don't want him attending any offseason conditioning programs until his contract is reworked.
Doesn't exactly sound like the way you treat a player you'd like to bring back. So, if McNair is released, where might he end up? The Ravens are looking for a QB, but Kerry Collins is a more likely choice to be reunited with Jim Fassel in Baltimore. There's always Detroit. The Lions seems to be holding open auditions for their starting position.
As for Tennessee, look for the club to select a quarterback in this month's NFL Draft. Bringing in Matt Leinart to work with Norm Chow almost makes too much sense at this point. Plus, you never know, maybe he'll bring Nick Lachey with him.