Marshall Faulk looks to be on his way out of football. Priest Holmes is questionable. And the latest veteran, running back standout to have his future in doubt?
Curtis Martin.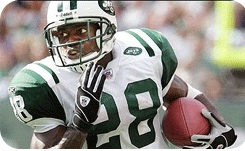 Two sources close to the Jets star told the New York Daily News that the running back talked about retirement before deciding to give it a go for another season, while one of the sources told the newspaper: "I'd be really shocked if he came back."
Martin was placed on the physically-unable-to-perform list at the start of training camp after he underwent arthroscopic right knee surgery in December. At the time of the surgery, he said he expected to start running again in February. He also said there was no ligament or structural damage.
However, according to several reports out of the New York area, Martin's knee has virtually no cartilage left.
"The guy is bone-on-bone on the knee and can't play," a source told Newsday.
As far as fantasy football drafts go, well Martin shouldn't have been in your top 10 running backs anyway. His replacement would be Derrick Blaylock, an average veteran. He could be worth a third RB position on your squad because someone needs to run the ball in New York.