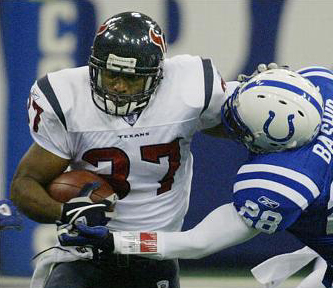 In case Houston fans weren't already lamenting their team passing on Reggie Bush, word comes out of Texans' camp that starting RB, Domanick Davis, is still injured.
After two days of participating in training camp practice, Davis went for an MRI on his sore knee and sat out of practice for the second straight day on Monday. Looks like the runner's surgically repaired knee isn't healing as quickly as he'd hoped.
Head coach Gary Kubiak expects to know the future of Davis soon.
"I think we're going to know a lot more about that knee and how he's doing, probably, over the next week," Kubiak said. "(Head athletic trainer) Kevin (Bastin) feels good about it. Domanick feels good about it."
Houston doesn't have awful back-ups. Antowain Smith won a Super Bowl with the Patriots and even second-year back, Vernand Morency, has been solid.
For fantasy football owners, however? Forget it. Davis is certainly out of the first round of any draft now.