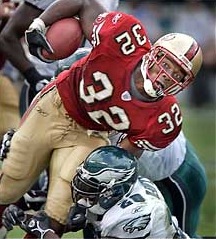 After their trade for Lee Suggs fell through, the Jets have landed Kevan Barlow - formerly of the 49ers - instead. Based on Barlow's poor performance over the last couple seasons, The Files recommend the following:
Don't draft him!
At least not unless he's your third string back at best. With Curtin Martin looking more and more finished, Barlow is supposed to least fill the need for an every down back.
A league source said Sunday night that the pick involved is a fourth-round choice that can become a higher selection if Barlow reaches predetermined performance levels, but neither team confirmed that.