Dallas Cowboys owner Jerry Jones is optimistic about reaching a consensus by Wednesday and resolving the NFL labor dispute, even as lengthy and contentious deliberations between the players and owners continue.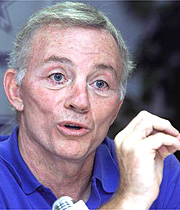 "My gut is that we can come up with something here that's good for the league and we can go on with," Jones said. "But it's going to be up in the air seriously, and is up in the air at this time. I expect a pretty drawn-out meeting here… I expect quite a push to get our owners to come up with something here."
According to the Washington Post, the owners met at a Dallas-Fort Worth airport hotel to consider a proposed settlement with the players' union yesterday and debated for eight hours. They will reconvene today and vote on the settlement proposed by Commissioner Paul Tagliabue. Several sources say Tagliabue reviewed the league's labor history and spoke vehemently in favor of resolving the dispute for the good of the sport.
Tagliabue has not made a formal promise to endorse the union's proposal, said NFL Players Association chief Gene Upshaw, but he wants to get a deal done. The proposed settlement calls for the players to receive about 59.5 percent of league revenues as compensation under a salary cap system. The deal would have to be approved by at least 24 of the 32 NFL teams.

The league plans to inform Upshaw, who is scheduled to meet with the players' executive board Wednesday in Hawaii, by 8 p.m. EST Wednesday on whether the owners will approve or reject the proposal. That is one hour before the current deadline for teams to make salary cap cuts. The current cap number is $94.5 million, and free agency is scheduled to commence at 12:01 a.m. Thursday.
Both sides agreed Monday that there would be no further negotiations if this proposal is shelved. If the deal is ratified by the owners, the opening of free agency would be pushed back another 24 hours.
Jones is among the owners who strongly oppose a new revenue-sharing deal, but believes it is time for the clubs to settle their differences with players and each other (there is a separate, but related debate between high- and low-revenue teams over profit sharing) for the good of the thriving league.
"We have an obligation here to everybody, pointedly to our fans, to see if we can make things work. Nobody really cares if I'm happy or not, and I know that. Nobody. But that's all right. We've got to get something done that's in the best interests of, in this case, the economics of the NFL," Jones said.
Next season's salary cap likely would be increased by more than $10 million per team if a deal is approved, and the NFL would be ensured of more long-standing labor peace. The proposed extension of the collective bargaining agreement, in place since 1993, is for six more seasons.
Will these guys divide their millions and get on with free agency already? Sheesh. Some of us have fantasy drafts to plan. Why doesn't everyone take a cue from Jones? The Cowboys owner just wants labor peace in the NFL, so he can go about his business of being old, getting plastic surgery, hitting on cheerleaders and assembling a disappointing Cowboys team. He's willing to make concessions. Work with him!