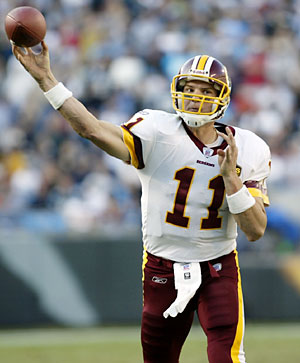 Just because Chad Pennington renegotiated his deal with the Jets doesn't mean New York is settled on its starting quarterback for next season. In a sign that the club may trade for back up help, Patrick Ramsey visited the team's complex this week.
As Mark Brunell emerged as a solid option this year, the former Redskins' QB became more expendable. Previously, Washington was asking for a second or third round pick in exchange for Ramsey, but the price is expected to be lower as the team currently lacks leverge.
Meanwhile, the Jets could still forego a trade and use the fourth pick in this April's NFL draft on a quarterback. Vanderbilt's Jay Cutler has wowed scouts in combines so far. Whoever is helming New York's offensive attack, don't waste a fantasy pick on him.