A trade last night shook up the fantasy football landscape a bit. Ashley Lelie - traded to Atlanta from Denver, who received Washington's 2007 third round draft pick - gives Michael Vick a fairly established deep threat.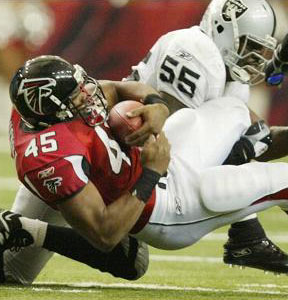 Vick is still no top fantasy football quarterback, but he should enjoy the presence of Lelie beating defenses down the field. Even more important for the Falcons - or, to be precise, fantasy owners analying the team - is how many more carries Warrick Dunn will receive now.
He's a surefire second round draft pick, players.
But what about Clinton Portis? The Files felt confident enough to list him as our fourth best running back, but now he's hurt. And Duckett is a goal line specialist.
This affects anyone with the number-four position. We'd recommend trading down. If you can't, Rudi Johnson, Edgerrin James or Tiki Barber are all looking more attractive than Portis, who will lose a few touchdowns this season thanks to the addition of Duckett.