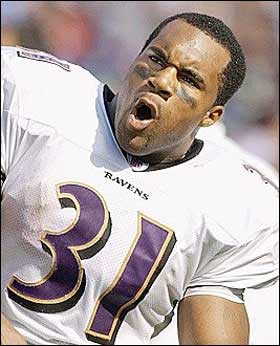 Look, if you were gonna draft Jamal Lewis any time before the 13th round anyway, we're sorry - but you've already lost your fantasy football league.
Now, however, comes news that the Baltimore running back will miss at least two weeks with a strained hip flexor. Coach Brian Billick said:
"Jamal has had a good camp so far. Medically, it's prudent at this point to give him a chance to fully rehab it and get the last bit of soreness — whatever is going on in there — out," coach Brian Billick said. "Between now and the beginning of the season that's what our focus is going."
Lewis sucks. You'd be better off with back-up, Mike Anderson, anyway.