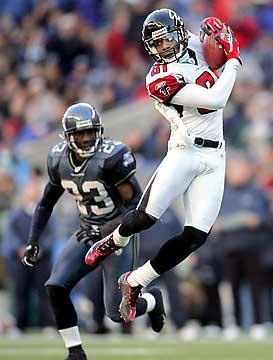 So, which Peerless Price will Buffalo be getting over the next four years? Now that the Bills have signed the wide out again, they have to be wondering if they'll receive the player that accounted for nine touchdowns and over 1,200 yards in 2002; or the one that completely sucked during subsequent stints in Atlanta and Dallas.
With Eric Moulds in Houston, a spot opened up in Buffalo. The expectations for Price, however, won't be as high as they were with the Falcons. Expect him to compete for the second receiver slot behind possible fantasy sleeper, Lee Evans.
"Peerless has shown what he can do," Willis McGee said. "It's just a matter of getting refocused and rekindle his career by showing he can do it. He hasn't lost a step."
Or a cool name. Even D'Brickashaw Ferguson is jealous.