All along, Donald Driver vowed that he wouldn't be like Javon Walker in his quest for a contract extension. Yesterday, the Green Bay wideout remained true to his word and signed a four-year deal with the Packers.
Driver may not end up getting paid as much as Walker, if the latter earns all the possible money in his contract with the Denver Broncos, but he got more guaranteed money — as well as the chance to stick with the team he loves. The 31-year-old Alcorn State product signed a four-year, $17 million deal that keep hims in Green Bay through 2009.
The receiver had two years remaining on a five-year, $11 million extension he signed in November 2002, and was scheduled to receive base salaries of $1.36 million this season and $1.84 million in 2007. Despite a $4 million signing bonus as part of that deal, he was underpaid compared to other wide receivers throughout the league. Not any longer.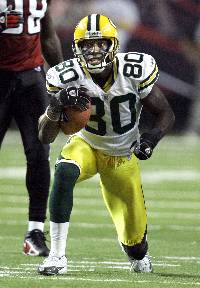 "Donald is a special person as well as a special player," said Packers V.P. Andrew Brandt Thursday night.
The contract replaces the remaining two years on his previous deal and Drives (if you will) Donald's pay scale up considerably.
Driver will receive a guaranteed $5 million bonus, with a 2006 base salary of $950,000, and subsequent base salaries of $2.7 million, $2.9 million and $3.9 million in the next three years. More importantly, he's clearly in the Driver's seat (so to speak) as far as Green Bay's fantasy fortunes go. All the interceptions Brett Favre throws won't be docked from Driver's totals, which are sure to be impressive.
See if you can steal Donald in one of your draft's early rounds and prepare to Pile Drive your competition. Sorry. We'll stop now.